Kia Ora, I'm Jasmine, founder of I Do Diary. I wanted to share with you my story behind the creation of this brand. I'll include a little bit about my own experience with planning my own wedding and the overwhelming rollercoaster which led her to me creating my dream wedding planner business.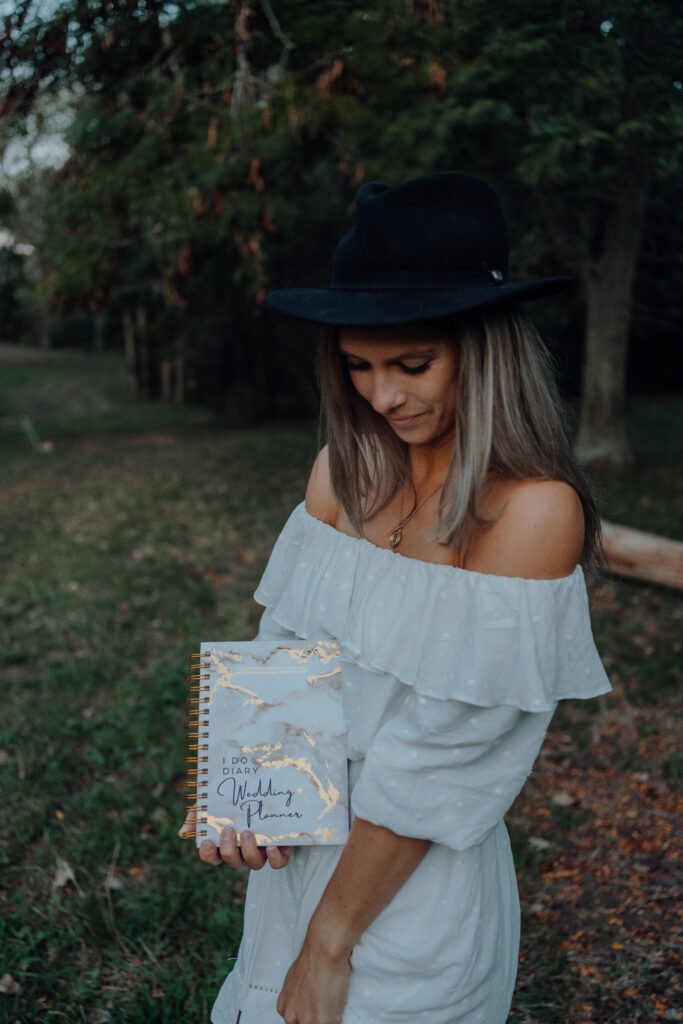 The story behind I Do Diary begins with the chaos of planning my own wedding during the peak of the covid pandemic. I remember sitting down with my partner, Aaron, at our favourite coffee shop, Cinnamon. We had a tough choice to make. Option one was to delay our wedding by a few years, playing it safe from the pandemic. Option two was to stick with our original date, even though lockdowns could force us to cancel, and risk having some of our nearest and dearest based overseas unable to make it.
After many heartfelt talks, Aaron and I chose the second option – we decided to face the uncertainty head-on. We knew there were many things beyond our control, but we focused on making the best of the situation.
With that settled, we embarked on the adventure of planning our wedding. Within our group of friends, we were among the first to get married, so it felt like stepping into the unknown. I totally underestimated how much time and energy would go in to planning a wedding.
I felt a lot of the planning burden fell naturally on my shoulders as the future bride-to-be, which I think many brides can relate to.

Jasmine Traynor
I relied heavily on to-do lists and spreadsheets spread out across the spare room floor, yet the constant feeling of lacking control weighed heavily on me. The final months before the wedding felt overwhelming and isolating. The strain seeped into my relationship, leading to tension and anxiety. I reached a point where I simply wished to fast-forward and "get it over with", which put a damper on the experience.
Looking back, it's easy to say now that the stress was worth the outcome. While the day was a huge success and will forever be cherished as the best day of our lives, it was hard for me to simply forget the stress leading up to the day itself.
When reflecting on my journey, I often found myself wondering why do we brides put so much pressure on ourselves to create the perfect wedding day? It's perplexing how we are willing to jeopardise our own happiness in the lead-up to the 'happiest day of our lives', attempting to navigate the entire wedding planning load all on our own. I couldn't help but wonder, "Was it only me who found the journey this overwhelming? Had others found an easier way to navigate this process?"
Upon talking to other brides, I learned I wasn't alone. Many brides felt it was one of the most stressful things they had ever planned – right up there with applying for a new job! I spent time researching at a wider scale, and came across a survey revealing 40 percent of brides categorised wedding planning as "extremely stressful." How come no one tells you this when you first get engaged!? It's like there's an unspoken code to only share the glamorous side of wedding planning, like cake tasting and learning your wedding dance. Everyone seems to leave out the trials and tribulations they went through to get there.
From one bride to another, here's a fun-fact I learned first hand: the stereotypical gender roles still exist in wedding planning today. We're expected to have dreamt of our wedding since we were little girls, growing up watching our favourite Disney-princesses getting married and living happily ever after. The bride is expected to know exactly what we want, have detailed lists, budgets, spreadsheets and timelines all memorised, to send/respond to emails like we're a CEO, as well as keep everything else in our lives afloat. Then all of a sudden come wedding day, we transform into a stress-free, glowing bride and turn a blind eye to what we've just gone through.
Let's face it – Wedding planning is utterly exhausting, especially for the bride who takes on 99.9% of the planning.

Jasmine Traynor
This discovery sparked a realisation within me: there was a genuine need for a more supportive and enjoyable approach to make this journey less daunting for brides. The solution? It became undeniably evident that we brides required a singular source of information. A 'wedding bible' or a one-stop-shop for all things wedding-related to simplify the wedding planning journey. This led me to dedicate the next 12 months to researching, curating, and crafting the ultimate wedding planning brand: I Do Diary. With a singular goal in mind, I Do Diary was born to relieve fellow brides from the burden of pressure and stress I personally felt, aiming to reshape the experience into an enjoyable journey!
My Mission
I've made it my mission to equip you with expert wedding planner tools and tips, lightening the load and support by brides like you. My aspiration is for I Do Diary is to erase the stress from wedding planning, crafting a seamless and enjoyable wedding planning journey and allowing you to relish every step along the way.
So, who's ready to become an I Do Bride and embark on this journey with confidence and joy?